Beauty is Nourishing...
..and because it is, I have made it my mission to bring the wild and rugged beauty of the Canadian Landscape, to nourish your heart and home through the eyes of an artist. I create paintings designed to lift your spirit and inspire you to live with wonder.
What a wonderful world!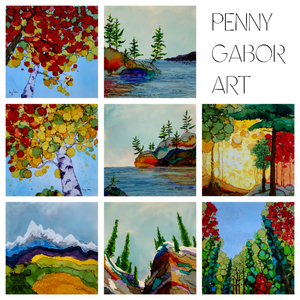 Shop Wearable Art Here
I have partnered with a most amazing Canadian company that makes ethical, wearable art using art by living artists.
"By choosing Le Galeriste, you support local production, living artists and the environment!"
Everybody wins in this partnership!
Shop Wearable Penny Gabor Art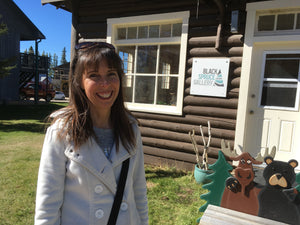 Black Spruce Gallery
Black Spruce Gallery of Lake Waskesiu, Saskatchewan, was the first gallery to take a chance on me. I am so excited to be working with this beautiful little gallery located in the picturesque Prince Albert National Park and I am honoured to a part of their  incredible collection of Canadian artists.  Be sure to visit them at BlackSpruceGallery.ca to see more of my work. 
Visit me at Black Spruce Gallery
Eclipse Art Gallery
Eclipse Art Gallery is located inside the Deerhurst Resort, in Huntsville Ontario, right in the heart of the infamous Muskoka region. It's such a privilege to be represented here alongside other amazing Canadian artists.
Visit Me at Eclipse Art Gallery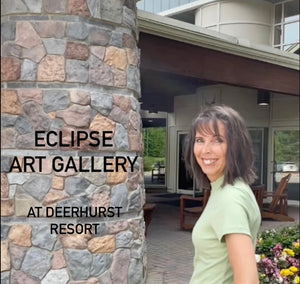 What is Alcohol Ink?
I'm so glad you asked!
Alcohol Inks are a lot like watercolours, but it is alcohol to alcohol inks that is like water to watercolours.  The inks are a solution of dye dissolved in isopropyl alcohol and recognized by their intense, highly saturated, translucent colours.  
They look brightest when painted on something non-porous. Most of the time, I use Yupo paper which is much like paper in it's appearance and weight, but is a non-porous synthetic paper. 
The inks are very interesting to work with because they are always live.  Even after a piece has dried (but before it is sealed, if a drop of alcohol or alcohol ink touches it, all the colours that are touched by that new ink react.  They tend to push each other out of the way - creating wonderfully organic lines.  Sometimes the paper beneath stains, but the ink is still moved to one side creating those dark edges that are so interesting.
It means that things don't always turn out as planned and my job as the artist is to work with what is happening and turn it into something beautiful. 
I love their unexpected and uncontrollable nature - it leaves lots of room for creativity and intuition.
Seasons along the Way...
In my last year of high school, my art class went on a field trip to an art college.  The trip was one I had been looking forward to for weeks as this was where I thought I would continue my education in pursuit of becoming an artist. 
The day of the tour was not one I would soon forget.  It was mildly traumatizing.  Everything I saw there was the opposite of who I thought I was as an artist.  Everything I saw that day was dark, bloody, scary and gory.     
I left believing I could never be an artist.
I made other plans.  I went to university, got married, had children and lived life, while the artist in me leaked out in all kinds of ways along the way.
to Discovery...
Finally, in 2014, my husband got a new office and commissioned me to paint him something to hang on the bare walls.  Painting again was like a breath of fresh air in lungs long starved of oxygen.
It wasn't until Christmas of 2016 that I discovered Alcohol Inks.  They were vibrant, rich in colour,  translucent, and such a challenge - painting with them requires an ability to relinquish control and enjoy the outcome. They come alive again when one colour touches another.   I have enjoyed the challenge of this new medium and it is my hope that you appreciate the results.
Pleased to Meet You...
I am currently carving out a career as an artist, but have dedicated much of my life to my family. While I've been creating one thing or another forever, it wasn't until my youngest started school that I got serious about art again. (I have a wonderful husband and 6 amazing kids - so it just took me a while to get here :)
My name - Penny - actually means Weaver or Creative Spirit, so I guess it's rather fitting that I have found myself in creating. Painting provides opportunity to continually push ideas and try new things and while this is both stimulating and exciting, I think I do it to reflect the light and goodness I see in the world. So far in this artistic journey for me, I want what I do to have an uplifting impact on the people who interact with it. Life has enough darkness and hardship - I want my work to feel life-giving and positive.
So there you have it - I hope that my work brings something bright to your life!
Penny Gabor Art
Sault Ste Marie
 Canada
By Appointment or by chance!
pennygaborart@outlook.com
Blog Posts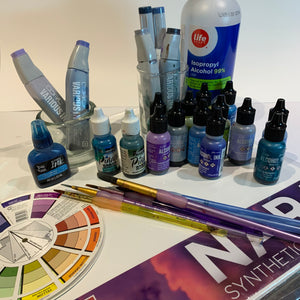 I get asked all the time about the supplies I use, so I thought I'd list a few of my favourite supplies... Let's start with paper.  Inks look best on...