News — #beautyisnourishing
• #beautyisnourishing • Alcohol Ink • Alcohol Ink Art • Alcohol Ink Painting • Algoma Art Society • art for my home • art for your home • Art Gallery of Algoma • Canadian Artist • home decor • home design • Lake Superior • Lake Superior Provincial Park • landscape art • Northern Ontario • Penny Gabor Art • Sault Ste Marie Artist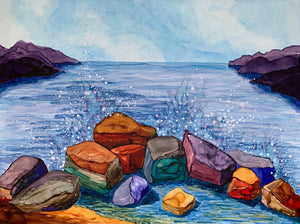 Just to stand there and observe is cleansing for your soul.  It feels like everything heavy or tiresome gets washed away in those moments, leaving a sense of joy and wonder.
"Nourished by Beauty" - a 30x40" alcohol ink painting of Katherine's Cove (near Lake Superior Provincial Park) won an Honourable Mention in this year's Winter Festival of Art at the Art Gallery of Algoma, Sault Ste Marie, ON.
---
• #beautyisnourishing • Alcohol Ink Painting • Algoma Art Society • Art Gallery of Algoma • Penny Gabor Art • Sault Ste Marie Artist
...my piece, Remembering the Reds, won the Most Innovative Painting Award...
---
• #beautyisnourishing • abstract art • Alcohol Ink • Alcohol Ink Art • art for my home • art for your home • Canadian Artist • Caronport • CTV News • Embrace the Unexpected • Emerging Artist • home decor • home design • landscape art • Penny Gabor Art • Saskatchewan Artist
So, this happened just a few days ago... CTV news came to my home and interviewed little, ol me! This was way outside of my comfort zone, as I am not one who likes to be in front of the camera.  But, I'm so glad I did it!  Two days after it aired, I spent 3 days at the Our Best to You Regina Spring 2019 Market.  So many people came up to me and mentioned that they had seen the story and were so interested in the process. The process - maybe we're all just interested in knowing 'how' everyone...